Put the "Special" in your special event with entertainment by Marcy Heller.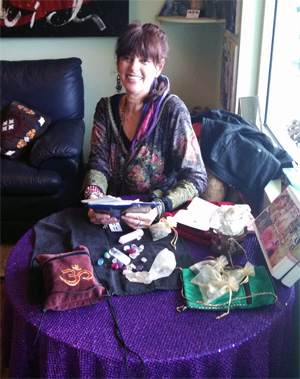 Marcy Heller provides uplifting and insightful psychic readings for guests at special events, based on the ancient art of numerology and tarot cards.
In under a minute, Marcy can ascertain deeply meaningful information about someone, just based on their name and birthday. The numbers reveal each person's:
life purpose
strengths and talents
life challenges
important life lessons
love paths
career paths
…and much more
Guests are always amazed and delighted with their readings, and Marcy is often hired again for repeat performances. Marcy's intuitive powers make the connection every time. She impacts all she touches with wisdom and love. Marcy is a superb communicator and The Master of her Craft!
Marcy has been featured by NBC News, USA Today, Yahoo News and the Sun Sentinel, and her clients even include celebrities (who prefer to remain anonymous!)
The amount of time spent with each guest can be adjusted to fit the needs of each event.
Marcy can give readings that are based just on numerology, just on tarot or a combination of both.
Our years of experience in the entertainment field and our ability to tailor creative programs will guarantee an unforgettable experience. Whether for family or corporate fun, our dazzling package of magical entertainment is sure to create a spellbinding effect. Our readings are suitable for any special occasion. Regardless of who your guests are, they are sure to have an unforgettable experience.
Successful events have an elusive quality, an excitement and energy which set them apart.
Marcy specializes in the following types of events:
Special Events
Holiday Parties
Corporate Events
Bar/Bat Mitzvahs
Country Club Events
Office Parties/Picnics
Theme Parties
Make your next event magnificent with personalized psychic, numerology or tarot readings for your guests. Call today for availability and pricing.